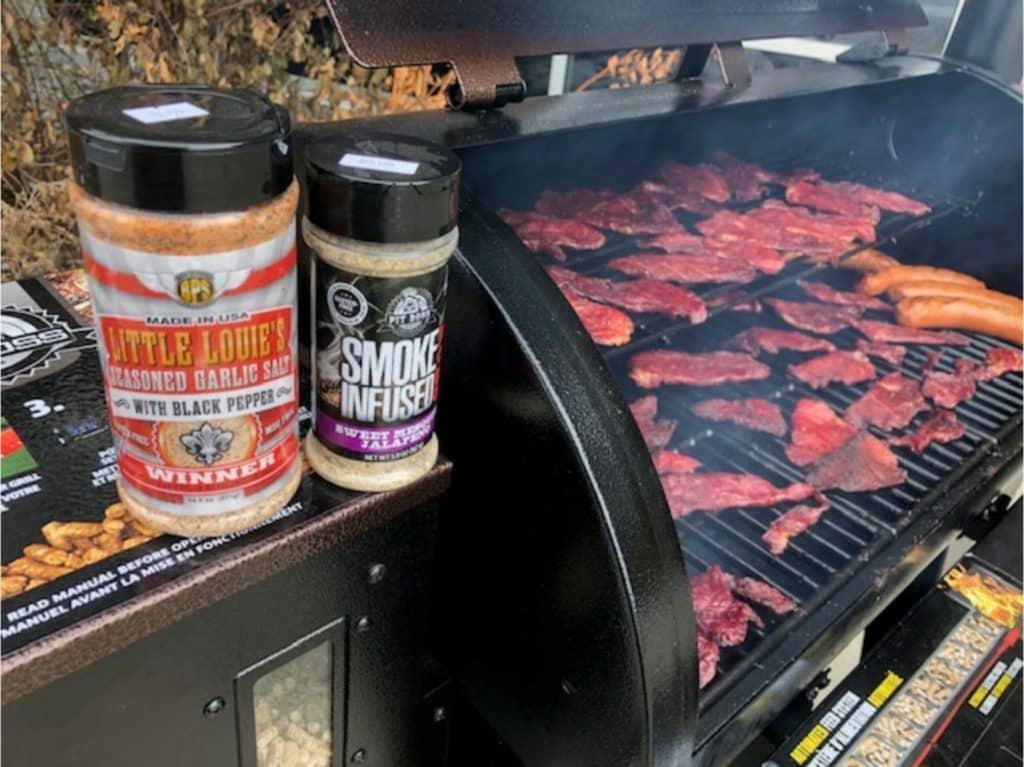 Dry Cured Beef Jerky
Beef jerky is a great snack, easy to prepare and by doing it yourself you get the satisfaction of great tasting meat at a fraction of the cost. I am using beef for this recipe however you may substitute beef for any lean muscle including Moose, Elk or Venison.
Ingredients
5

lbs

Lean Muscle. An inside round roast or sirloin.

2

tbsp

Cure (pink salt) if you prefer not to use cure simply double the seasonings.
Instructions
Step by Step
Place the meat in the freezer for ½ an hour. This makes slicing much easier.

Mix the cure and seasoning together and set aside while the meat is firming up. If you have a shaker bottle this makes a convenient method to season the meat.

Remove the meat from the freezer and slice the meat in ¼ inch strips. You can slice with or against the grain. If you slice with the grain you will get a chewier bite and if you slice against the grain you will get an easier chew.

Lay the strips single layer on a baking sheet and blot dry with paper towel.

Apply ½ the seasoning, flip and reapply the other ½ of the seasoning. At this point place all the meat in a large bowl and mix. This will ensure an even distribution of seasoning.

Place the seasoned meat in a large zip lock bag and place in the fridge for 24 hours.

After the meat has been in the fridge, you are now ready to cook or smoke. If using your oven set to 200 degrees and place the meat strips on a rack. Place a sheet pan on a lower rack to catch any drippings. Keep your oven door open a crack and cook for 1 to 1 ½ hours. For a dryer product cook for an additional ½ hour or until you reach the desired result.

When using a pellet smoker set the dial to smoke and you should get your smoker to about 180 degrees. Any pellet will work however I like to use hickory or competition blend. Smoke for 1 hour then flip. Keep checking every ½ hour until you get the desired doneness.

Enjoy your homemade jerky.
Notes
Store your jerky in the fridge and it should keep for up to 2 weeks although it never seems to last that long. Homemade jerky makes a great Christmas present, simply find a nice sealable glass jar, wrap with a ribbon and give to your friends.