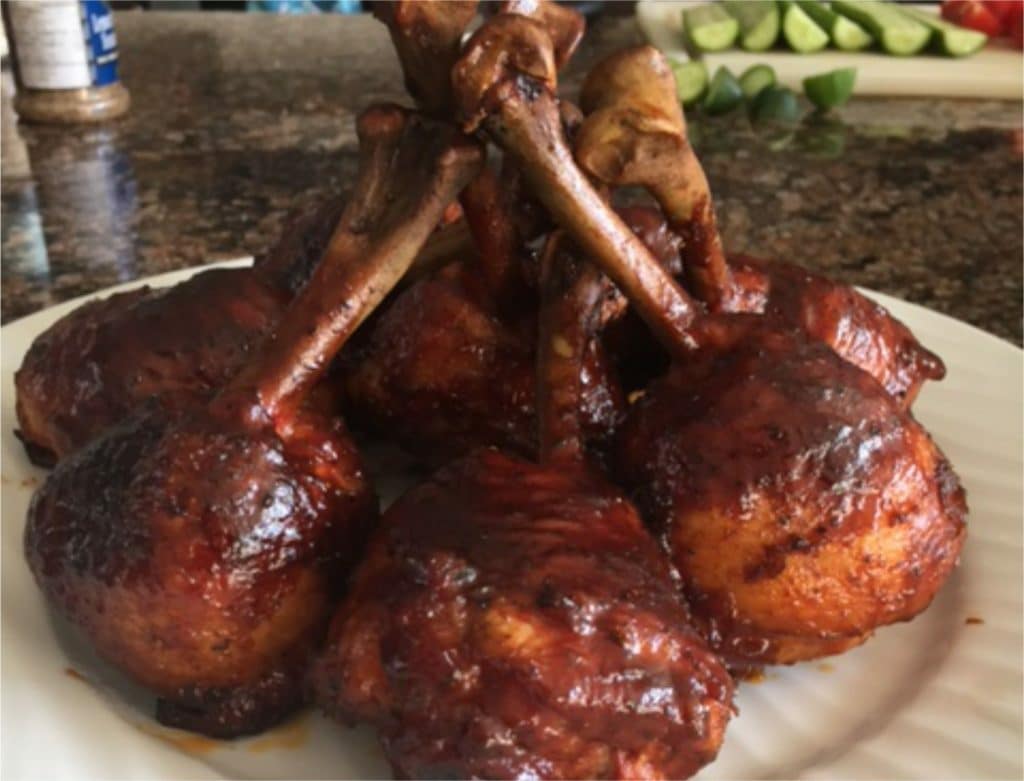 Holy Voodoo Chicken Lollipops
Chicken Lollipops are a fun way to spice up drumsticks. Kicking up the flavour with a great Cajun seasoning combined with a spicy sauce and great presentation will wow your friends. Lollipops are delicious, fun to eat and come with their own built in handle.
Ingredients
24

each

Chicken Drumsticks, skin on

2

oz

Truff Red Hot Sauce

1

each

Stick Butter

2

each

Garlic Cloves

½

each

Small Onion, minced

2

oz

Dark rum (substitute with Cola for a non-alcoholic option)

½

cup

Dark brown sugar
Instructions
Sauce
In a pot melt butter over medium heat and sauté garlic and onions until the onions are translucent 3-4 minutes. Combine brown sugar, rum and cook for 5-6 min until mixed and alcohol is burned off. Remove and add hot sauce an BBQ sauce and store until ready to use.
Preparation
Using apple or hickory pellets set your smoker to 350 degrees

With a sharp knife score the skin about ¾ of an inch from the bottom of the chicken leg and remove. The skin can be quite tough so make sure you score right down to the bone. Remove the skin then push the meat from the bone end towards the thick end of the drumstick forming a ball and exposing about 1½ inches of bone.

Once the lollipops are formed liberally coat with Meat Church Holy Voodoo seasoning and let chicken rest until the smoker is up to temperature.

At this point the Lollipops are ready to place on the grill, to keep the bone from getting too dark you may wrap the bone with a piece of tinfoil however this is not necessary if you are not concerned with the color.
Cooking the Lollipops
Place the Lollipops meat side down on the smoker and cook until you get an internal temperature of 165 degrees F. approximately 30-40 minutes. Once the chicken gets to the internal temperature it is time to sauce. The best way to sauce is to put the sauce in a deep container and holding the base of leg dip the lollipop into the sauce, remove and let the excess drip off. Place the lollipop back on the smoker and continue to cook until you reach an internal temperature of 175-180 degrees F.

​Remove from the smoker and serve hot.