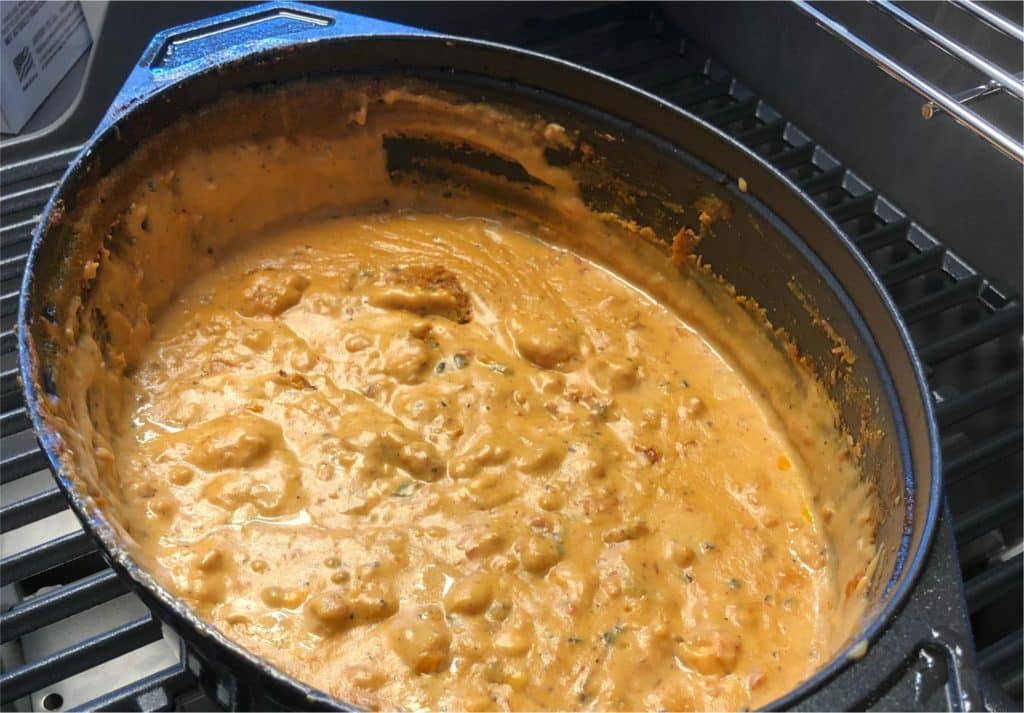 Holy Voodoo Smoked Queso Dip
Here is our take on a classic smoked Queso dip, inspired by our good friends at Meat Church. Today we are using Meat Church holy Voodoo seasoning however you may substitute Holy cow or any other good seasoning. The use of Holy Voodoo gives the dip a nice extra kick. Meat Church uses a product called Rotel as the tomato component, however today I substituted Fire Roasted Salsa and the results are spectacular. This cheesy dip is a easy to prepare and will wow your guests.
Ingredients
500

grams

Breakfast Sausage

2

cans

398ml Cans Fire Roasted Salsa or Rotel

1

can

Cream of Mushroom Soup

900

grams

Block of Velveeta Cheese

450

grams

Smoked Gouda

2

tbsp

Meat Church Holy Voodoo Rub

1

bunch

Cilantro
Instructions
Preparation
Pre heat your smoker or oven to 325 degrees.

In a heavy cast container add crumbled sausage meat and cook until browned. While the sausage is cooking cut all the cheese into 1-inch cubes. When the sausage is done drain off excess fat. Combine the salsa, mushroom soup, cheese and rub to the sausage and cook uncovered for approximately 45 minutes or until the cheese is full melted. About 5 minutes before serving add chopped cilantro. Serve hot with your favourite tortilla chip, bread or for the adventurous, pork rinds.
Step By Step
Preheat your smoker to 325 degrees

Crumble the sausage meat and fry in a heavy pan until cooked

Cut all the cheese in 1-inch cubes

Drain any excess grease from the sausage

Combine the sausage, cheese, salsa, cream of mushroom soup and rub in a heavy cast iron pot

Place on smoker uncovered stirring occasionally

Once the cheese is fully melted add the chopped cilantro and cook another 5 minutes

Serve hot with your favorite tortilla chip, cracker or chicharron
Notes
There are many variations of this dip, try using spiced cheddar instead of gouda, any good melting cheese will work. The Velveeta, however, is key to a nice creamy dip, do not use a generic brand for this step. I'm using cream of mushroom soup, trust me it works well but if you like you can use any cream based soup. Rotel, which is a combination of canned tomatoes and green chilies is in the original recipe, I could not find any so substituted with fire roasted tomatoes.  As the dip is only on the smoker for 45 minutes, I like to use a hickory or charcoal pellet to get a nice smoky dip. Enjoy!