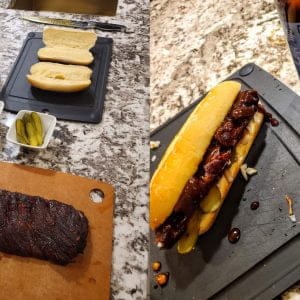 Homemade Rib Sandwich
I do not know if Rib sandwiches were famous before McDonalds launched their famous "McRib", but I know my family grew on on those delicious ground pork rib shaped patties on a bun. They were not my favorite, but they were a quick easy meal for my family, and I wasn't doing the work so who was I to judge!  But now I am an adult and I love delicious food, so I took it upon myself to recreate this famous sandwich but elevate it to the BBQ glory that it deserves.
Equipment
Sturdy Roll of Tin Foil

Competition Blend Wood Pellets

Large Baking Sheet or BBQ Tray

BBQ Tongs

Pellet Grill or Charcoal Smoker

Yonedas Okami Chef Knife

You Need a BBQ Cutting Board
Ingredients
2

each

Racks Side Ribs, Spares Removed

1/4

cup

Yonedas Grannies Gold Mustard Sauce

1/2

bottle

Kosmos Q Pineapple Heat Rib Glaze

1/2

cup

Apple Juice

1

bottle

Yonedas Chicken and Rib BBQ Sauce

6

each

Dill Pickles

1

each

Medium White Onion, diced

6

each

Soft White Sausage Buns
Instructions
Preparation
Preheat the Smoker to 275 degrees

Remove the membrane from the back of the ribs and discard.  Trim the ribs to remove any of the soft white spare rib bones from them and put them aside, this will make removing the bones easier later on in the recipe. Cover the ribs in a thin coat of the Grannies mustard and then sprinkle with a heavy cover of the Erubtion rub by Spiceology. Let the ribs sit out at room temperature for around 30 minutes until the seasonings start to melt into the meat.
Smoke the ribs
Place the ribs on the smoker, meat side down.  Let them smoke for around 3 hours, spraying with apple juice regularly (approximately every 45 minutes) to help cool the surface of the meat and prevent the ribs from drying out.  You are looking for the ribs to achieve a nice dark mahogany color. Once you get the color you want, it is time to bring the ribs inside to wrap them in tinfoil.
Wrapping the Ribs
Lay out 2 sheets of tinfoil that are twice if the racks of ribs for each rack of ribs.  On top of the foil, lay down a coating of the rib glaze, place the ribs on top of the glaze meat side down and then pour more rib glaze over the bone side.  Double wrap the ribs in the foil, making sure that the bones do not puncture the foil.  You do not want to lose any of the juices that you are working to hard to stay in the ribs. Repeat with each rack of ribs and then return them to the smoker.
Tenderizing the Ribs
Place the ribs on the smoker, meat side down so that the meat is in the juices that come out of the ribs as well as the rib glaze that you added.  You want to leave them on the smoker for at least 2 hours, but probably closer to 3 until you can easily pull out the bones without much effort.
Removing the Bones
Once the ribs are done tenderizing, you want to remove them from the smoker and place them onto a cutting board with the bones facing up.  Wearing a pair of heat resistant gloves at this point will help, you want to grab each bone and remove it from the meat. Make sure that there are no leftover spare rib bones where the tip of the bones was.  Discard the bones while trying to keep the rest of the meat as intact as possible.
Assembling the Rib Sandwich
You are going to want to lightly toast your buns before assembly.  Then pour a healthy amount of You Need a BBQ Chicken and Rib sauce onto both sides of the bun.  Place a section of the deboned ribs on top of the sauce.  Sprinkle with diced onion and pickle and a little more sauce and you have got yourself one hell of a sandwich.  I like to throw the sandwich into the microwave for about 15 seconds before eating to soften the bun just a little bit more before consuming.
Step by Step
Preheat the smoker to 275 Degrees F.

Remove membrane from the ribs and rub them down with Grannies Mustard.

Season the Ribs with Spiceology and Sasquatch BBQ Erubtion rub.

Let the ribs sit out at room temperature for 30 minutes.

Place the ribs bone side down on the smoker for 3 hours, spraying with apple juice every 45 minutes.

Once you achieve a rich mahogany color on the ribs, it's time to wrap in foil.

Wrap each rack of ribs in 2 layers of foil with a glaze of Rib Glaze.

Place the ribs meat side down on the smoker for 3 more hours until bones can be removed easily.

Remove the bones from the ribs.

Assemble the sandwiches, making sure to toast your buns and add the meat, onions, pickles and You Need a BBQ Chicken and Rib Sauce.

I like to microwave my sandwich for 15 seconds to soften the bun before eating.
Notes
What type of ribs should you use?
The best type of ribs for a McRib style rib sandwich are side ribs.  Side ribs are the fattier version of pork ribs because they are attached to the belly.  With fat comes flavor, so I like to use side ribs because they have a little more flavor than back ribs.  You can still use back ribs for this recipe, in fact you would not have to worry about the spare rib bones, they just wont pack the same punch as a nice big rack of side ribs.
What is the best seasoning for a Rib Sandwich?
I like to experiment with different flavors all the time.  When I tested this recipe, I used a combination of Spiceology Erubtion and You Need a BBQ Chicken and Rib sauce, so I can say without a doubt that those flavors work great together.  I think this sandwich would also taste great with our Smoked Hickory BBQ Sauce, Grannies Gold Mustard or our Smoked Hickory Honey Habanero Sauce as well.  For seasonings, some of my other favorites are Big Poppa Smokers Sweet Money Rub, Heath Riles Cherry Rub and Prairie Smoke and Spice Tumbleweed Rub.  I would recommend playing to your own taste buds to come up with the perfect combination of flavor that is right for you.
What if I am Gluten Free?
All the seasonings we recommend in this recipe are in fact gluten free, so this recipe could easily be made gluten free if you were to just use your own celiac friendly or gluten free bun options. The same can be said for people on the Keto Diet or who eat Paleo, feel free to adapt this recipe to your liking by making it sugar free, lettuce wrapped or any other substitutions that would be necessary to fit into your everyday healthy eating plan.
When are they bringing the McRib back to McDonalds?
Luckily now that you have this recipe, you do not have to worry about when the McRib is making a comeback. It has only gone nation wide in release twice since 2012, so I would not count on having easy access to this fan favorite.  Master this recipe and become the hero of your block by serving it at your next BBQ party.
My Ribs are not falling off the bone, what should I do?
If your ribs are not falling off the bone you basically have 2 options.  You can cut them off the bone by carefully using a sharp knife.  If you opt for this method, then all you need to do it slice off the meat and then chop it up on the cutting board.  You would be looking for a fine mince so that it is easier to eat the sandwich. The other option is you can return the ribs to the smoker wrapped in foil until they are ready to release from the bones.  Most often when a rib is too tough it is because it is under cooked, so all you must do is cook it a little more to get the meat to tenderize perfectly.
What internal temperature do ribs get too before they are done?
I often cook my ribs to feel instead of to a certain temperature.  Ribs are "done" when they reach an internal temperature of 145 degrees, but they would be too tough at that temperature.  You want to cook ribs up to closer to 200 degrees or maybe even 210 degrees for fall off the bone tender like you would want in this rib sandwich.
What sides go great with a Rib Sandwich?
I like to eat my rib sandwiches with Pit beans, Potato Chips, Mac and Cheese or Coleslaw. The star of this meal is going to be the sandwich no matter what the sides are, so pick something that has a nice contrast of flavors to the spicy