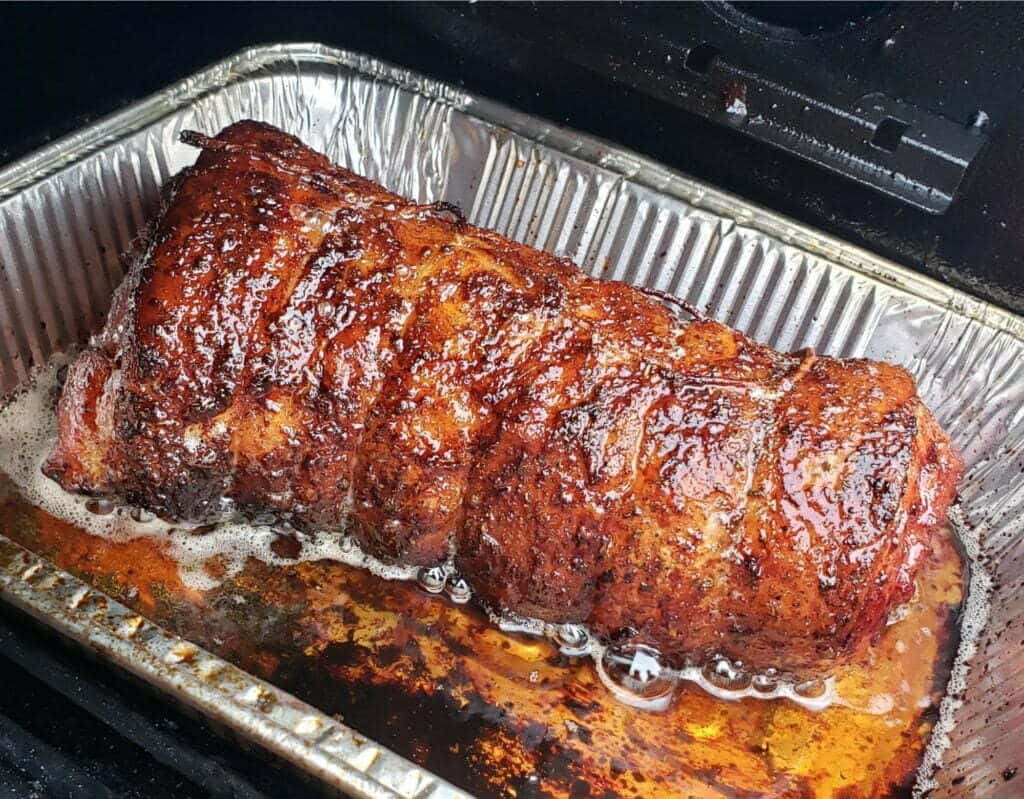 Porchetta
Pork belly is a fabulous cut of meat that is versatile and delicious. You can braise it, bake it, cold smoke it for bacon and much more. Today we are going to show you how to do a simple yet tasty, crispy Porcetta. Traditionally Porcetta is an Italian slow, fire roasted pork roast but today we are using the Pit Boss pellet smoker to do the job.
Ingredients
5

lbs

Skin on Pork Belly

Yellow Mustard
Instructions
Porcetta is traditionally stuffed with herbs, fennel, garlic or even a sausage stuffing. We are keeping it simple today simply using quality seasonings. We start by scoring the meat side of the pork belly in a 1 inch diagonal pattern about ¾ of an inch deep. The scoring will allow better penetration of the spices. Once scored add your mustard to the scored side, this will allow for good adhesion of the rub. Liberally season the meat side of the pork belly and rub everything into the score marks. Now simply roll the pork belly tightly with the skin side out and place on the cutting board. Once again add mustard to the skin side, liberally apply the remaining spice rub and with butcher twine truss the rolled pork belly. Let the trussed seasoned pork belly rest for about 20 minutes and place on a 300 degree smoker. Today we are using apple pellets as it complements the meat nicely. Cook for approximately 2 hours directly on the grate until you get an internal temperature of 170 degrees. Baste the Porcetta with duck fat and increase the temperature on the smoker to 500 degrees and continue to cook for another ½ hour or until the skin is crispy.
Step By Step
Score meat side of Pork Belly in 1 inch diagonal sections

Add a layer of mustard and rub into all the score marks

Liberally apply the spice rub

Roll the Pork belly tightly, fat side out, and truss with butcher twine

Lightly coat the exterior with duck fat

Cook in a roasting pay at 300 degrees until you reach an internal temperature of 160-170 degrees, approximately 2 hours.
Notes
If you like how this recipe turned out then please share your pictures on social media using #youneedabbq to let us know.