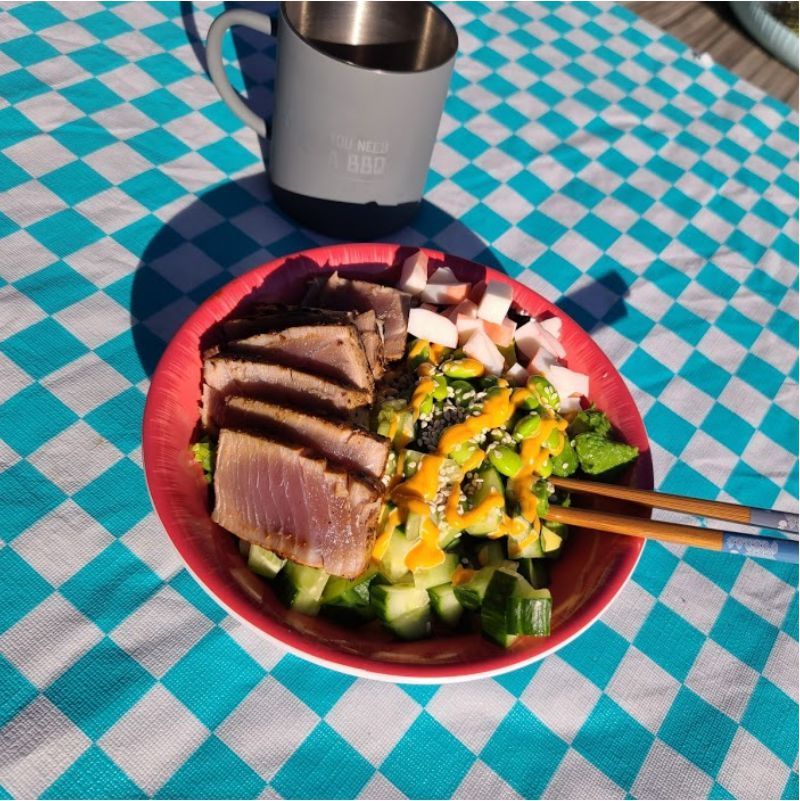 Seared Yellowfin Tuna Poke Bowl
Tuna Poke bowls are usually served with raw tuna, but this is a cooking blog, so we are doing it with some added flavor and then seared on the flat top with seasoning and oil. I made this meal while camping and it was without a doubt one of the best camping meals I have ever had! It was a happy accident too, because I bought the tuna steaks with the intention of keeping them frozen for a nice at home dinner one day, but they accidentally got put into the refrigerator than the freezer. 2 Days later, I had no choice but to bring them Yellowfin Tuna camping for what turned out to be an incredible camping feast!
Ingredients
4

each

Yellowfin Tuna Steaks (other tuna like AHI will also work)

1

each

Avocado, diced

1

each

Cucumber, diced

4

each

Green Onions, Diced

3

cups

White Rice

⅓

cup

Sushi Rice Seasoning

2

sheets

Nori, diced

¼

cup

Fergolicious Luv Rub
Instructions
Prepping the Tuna Steaks
Pre-heat your griddle to High heat.

Season the tuna with a mixture of the Fergolicious Luv Rub and the Sasquatch BBQ butter toss seasoning. Let the seasoning rest on the tuna for about 10 minutes before transferring it to the griddle.
Create your "Mis en place"
Prepare a "Mis en place" of all your Poke bowl ingredients. This means putting all your ingredients into individual bowls on the counter, so that when you are making your poke bowls everyone can mix and match the ingredients as they like. Prepare your sushi rice by placing the rice into a rice cooker with 3 and a half cups of water. Turn the rice cooker on and wait for it to finish. Once the rice is done, mix in the sushi rice vinegar seasoning to complete the process.
Grilling the steaks
Apply some oil to the grill surface and spread it out using your spatula. Put the tuna onto the grill and then flip the tuna every 60 seconds or when it is nicely seared on all sides (including the edges). Remove the tuna from the grill and let rest for 5 minutes before serving.
Assembling the Poke Bowls
I sliced the tuna across the grain and laid it out on a baking sheet for people to select from. Then give each person a bowl and let them assemble their bowl with their choice of ingredients, toppings, and sauce.
Step By Step
Season your tuna steaks with Luv Rub and Butter Toss

Preheat your grill to high temperature

Cook your sushi rice in a rice cooker and then apply the sushi rice seasoning

Create a "Mis en place" of all your diced ingredients

Sear the Tuna steaks on all sides until golden brown (about 1 minute)

Slice the tuna across the grain

Assemble the bowls with your choice of toppings and sauce
Notes
Traditional Poke is served raw why is this one cooked?
The yellowfin tuna that I bought was not considered to be sushi grade, so it needed to be cooked prior to serving. Only tuna that is specifically marked as sushi grade is safe to be eaten raw, so make sure you know your fish supplier well enough and trust them. If you are not sure if the tuna you have is sushi grade, then I recommend giving it a quick sear as in this recipe.
Is grilled or fried tuna better for this recipe?
I did this recipe on the camp chef flat top cast iron griddle, but there is no reason you could not substitute the grill to sear the outside of these tuna steaks. Grilled tuna is delicious and might even provide a little more flavor from the char you will get. I decided to sear on the flat top because I wanted to use a little more heat than I could have gotten on the little pellet smoker I had with me.
What types of sauce are good on a Tuna Poke Bowl?
My favorite sauces on a tuna Poke Bowl are as follows: Wasabi, Soy Sauce, Samurai BBQ Sauce, Sriracha Mayo, Truff Sauce. Those are the ones I regularly have in my fridge and are delicious on a Tuna Poke Bowl. A couple of off board selections would be the new Heinz Wasabioli, which is available in most grocery stores, the light Wasabi flavor is awesome when paired with the fresh Tuna.
What if I am Gluten Free?
This Tuna Poke recipe can be made entirely gluten free, just be weary of which sauces you pick for the bowl because most Soy Sauce has gluten, so make sure to pick gluten free sauces and then you are good to go.
What is the correct temperature to finish a tuna steak?
When I did this recipe, I seared the tuna to blue rare, which means that I seared it to cook on the outside but that the internal temperature was not affected and should have remained cold. However, if you wanted to cook it more, here are the temperatures:
Rare: 125F
Medium Rare: 130F
Medium: 135F