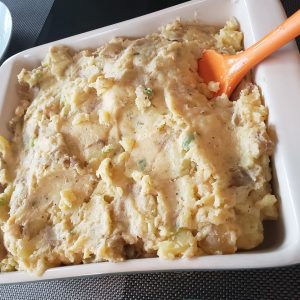 Smashed Little Potatoes with Ivory Heaven
I was on the hunt for a quick and easy dinner, so I came up with a dish that can be prepper while it cooks, so the whole process takes about 20-30 minutes beginning to end depending on how long it takes you to boil water. These smashed potatoes are savoury and delicious and super fast.
Instructions
Preparation
Get water on the stove first thing, then while you are waiting on it to boil you can prep everything else.

If you are in a real rush you can cut the potatoes in half because the smaller they are the faster they will cook, but this step is not required. You are going to need to dice your green onions, grate your cheese and measure out your butter during this phase.  Once your water is boiling dump the potatoes in.
Cooking
Boil the potatoes until they are soft then strain them and put them back in the pot. Add all of the other ingredients to the pot and mash away. I like to continue to add milk or cream until the whole mixture is quite soft and not too lumpy.
Serving
The fastest way to serve this meal is right out of the pot, but clean up will be easier if you pour the potatoes into a serving dish and then let the pot soak in the sink while you eat.