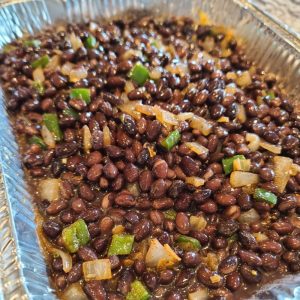 Smoked Chocolate Jalapeno Black Beans
Using local ingredients is such a fun way to lower your carbon footprint, ensure you are using the freshest ingredients and save money! In Alberta where I am from, we grow a lot of pulses. The most common pulses grown in Alberta are field peas, chickpeas, lentils, fava beans and dry beans such as black, great northern, pinto, small red and yellow beans. Today we are going to focus on the black beans! Black beans are one of my favorites, I always add them to my chili, taco salad, burritos, and a few other recipes. Today's recipe is very much Mexican inspired, like those other dishes, but with way more black beans. The Yonedas Chocolate Rub in this recipe is an amazing collaboration between Jacek Chocolate and Yonedas rubs, made with locally grown black beans, it doesn't get more local that this baked beans recipe right here! This recipe was developed in partnership with Porkapalooza, Taste Alberta and the Alberta Pulse Growers.
Equipment
Pit Boss 820D3 Pellet Grill

BBQ Tongs

You Need a BBQ Cutting Board

Aluminum Tray

Yonedas Okami Chef Knife

Frying Pan
Ingredients
2

cans

Black Beans

½

cup

Yonedas Jacek Chocolate BBQ Rub

1

cup

Diced Jalapenos, Seeds Removed

½

cup

Diced Onion

2

each

Large Cloves Garlic, minced

1

tbsp

Canola Oil

1

cup

Cilantro

¾

cup

Feta Cheese
Instructions
Add Beans to Foil Tray
Drain the beans into an aluminum foil tray and then set aside
Prepping the vegetables
Preheat your barbecue to 275 degrees

Using a frying pan on medium high heat, add the canola oil, diced onion, garlic and jalapeno to the frying pan and stir frequently until softened. Season the vegetables as they cook with about half of the Yonedas Chocolate rub.
Mixing up the beans and Vegetables
Add the cooked vegetables to the beans and stir to combine. Add the rest of the Yonedas chocolate seasoning to the mixture and then place them on the smoker at 275 degrees F for about 1.5 hours.
Wrapping the beans
After about 1.5 hours, wrap the top of the beans in foil to help lock in the moisture and soften the beans for the final 1 hour of the cook.
Finishing the beans
After the final hour cooked, pull the beans off the smoker and add in the Feta Cheese and diced cilantro, give it one final stir and serve hot.
Step By Step
Preheat Smoker 275 Degrees F

Fry the diced Jalapeno, onions, and garlic in canola oil until softened with Chocolate seasoning

Add the Black beans and cooked vegetables to a foil tray with the rest of the seasoning

Smoke the bean mixture for 1.5 hours at 275 Degrees F

Cover the beans in foil and continue cooking for 1 more hour

Remove the foil and stir in the Feta and cilantro to finish
Notes
Can this recipe be made with different beans?
Yes, we used black beans in this recipe because they are grown locally. However other beans that would work great in this recipe would be Red beans, Kidney beans, brown beans, Chick peas, great northern beans, pinto beans. We like the black beans because of their firm texture, so they do not break down and hold their shape while cooking.
Can I use dry beans to make this recipe?
We used canned beans for this recipe, but you could use dry beans if you plan. The preparation for dry beans means soaking the beans overnight in water and then boiling them prior to beginning this recipe. I also noticed that the dry beans I was looking at had a "may contain gluten" warning, whereas the canned beans I was using did not have that warning, which I thought was interesting.
Why did you use Feta Cheese?
I love adding a little bit of cow's milk cheese to my beans right before finishing to give them a bit of a creamy texture. Feta is especially good because of the way it crumbles into the beans. Another great option would be Contijo cheese like they use in Mexico. Failing all of that then a marble, cheddar or mozzarella would also be great.
What if you don't like it spicy?
I find that taking the seeds out of the jalapenos and then mixing them in with the beans, really softens the heat of the jalapenos. You could also sub the jalapenos for green or red sweet peppers if you really want to avoid spiciness.