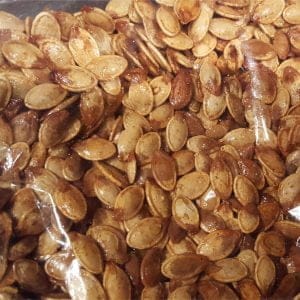 Smoked Pumpkin Seeds
Decorative pumpkins can be so much more than decoration if you learn to use the parts that most people throw away.  Pumpkin seeds are super slimy and gross to take out of the pumpkin, but kids love doing it.  After a little rinse, some drying and seasoning, they are amazing roasted on your smoker!  So don't throw away the seeds, follow this recipe to have a delicious and healthy snack.
Ingredients
1

each

Seeds from a Whole Pumpkin

1

can

Cornhusker Kitchen Duck Fat Spray

3

tbsp

Fire and Smoke Society The Usual Seasoning
Instructions
Preparation
Preheat smoker to 300 degrees F

Wash the pumpkin seeds to remove any excess pumpkin, you can run them under cold water in a strainer and pick out the pulp and stringy bits by hand. Place the pumpkin seeds in a single layer on a baking sheet or tray and spray with duck fat spray. Then season with The Usual seasoning. 
Cooking
Place the baking sheet on the smoker for around 30 minutes, stirring and adding more seasoning half way through. The seeds are done when they start to take on a bit of brown or golden colour.
Serving
Once the seeds are done, they can be removed from the smoker to cool.  They can be stored in the fridge for upto a week or left out at room temperature for a couple of days for regular snacking.
Step by Step
Rinse seeds and remove pulp

Spray the seeds with Duck fat and sprinkle with The Usual

Roast at 300 degrees for 30 minutes, stirring half way through

Remove from smoker and enjoy!