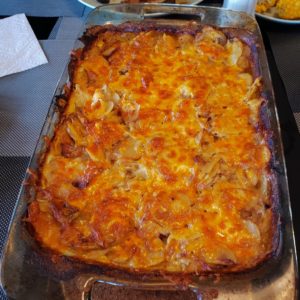 Scalloped Potatoes
​Scalloped potatoes are one of the staples for food I grew up on.  It was always one of my favourites, the creaminess and gooeyness of the dish make it very popular around my house to this day.  I found found a few ways to level up this dish to make it that much more savoury that every year around the holidays it's one of the first dishes to disappear from the dinner table.
Ingredients
3

lb

Bag of The Little Potato Company Little Potatoes

1

each

Sweet Onion

¼

cup

Butter

1

cup

Heavy Cream

2

cups

Marble Cheese

¼

cup

Boar's Night Out White Lightning Double Garlic Butter

1

tbsp

Hot Sauce, Try Truff Hot Sauce!
Instructions
Preparation
Set your Smoker or BBQ to 300 degrees Fahrenheit.

You can slice the potatoes by hand, but we highly recommend using a food processor or mandoline to make sure all of your potatoes are the same thickness. You want to slice all of the potatoes and then the onion to the same thickness. Then place them into a large mixing bowl. Next you are going to pour all the other ingredients into the bowl and combine gently making sure not to break the potatoes too much. Once everything is well incorporated you can pour the entire mixture into a foil tray to be placed on the smoker.
Cooking
Place the foil tray into the smoker and let it cook for 30 minutes uncovered.  After the first 30 minutes you can cover the tray in aluminum foil, this will lock in the heat and help the potatoes to be done cooking after about 1 hour.  Next you can uncover once again for the last 20 minutes.  Keep an eye on the cheese on the top to make sure it's not getting too dark. You will know the potatoes are done when you can stick a tooth pick into them and they feel soft (you can also just take 1 slice of potato out and taste it to confirm as well).
Serving
I like to serve these potatoes right out of the smoker, but these can also be prepped a day in advance because reheating this dish is super easy. I often just put a spoon right into the tray and place it on the table for people to take scoops of the Scalloped potatoes right out.