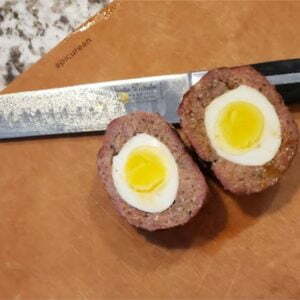 Smoked Scotch Eggs with Runny Yolk
Scotch eggs in their traditional presentation are breaded and deep fried, so this is not "really a scotch egg", but you know what, it might even be better.  This recipe will get you a perfectly cooked runny egg, coated in delicious smoked sausage.  These eggs are best served with a cup of steamed rice or some bread to help soak up the runny egg after you break into it.
Ingredients
6

each

Eggs

1.5

lbs

Sausage Meat

½

cup

Yonedas Smoked Hickory BBQ Sauce
Instructions
Preparation
Preheat the smoker to 250 degrees.

Place the eggs in boiling water and time them in there for 6 minutes.  At the 6-minute mark you want to take them out and get them into an ice bath.  This will help to stop the cooking process and preserve the soft-boiled center.  They are a little easier to prepare if you let the eggs get to hard boiled (about 10 minutes), but once you nail the soft boil, you will never go back. Peel the eggs and rest them in the fridge until the sausage is prepped.
Wrap the Eggs
Grab a handful of sausage meat and form it into a ball that is slightly smaller than you want your scotch eggs to end up. Smash it down on a flat surface like a cutting board or baking sheet. Season the top of the meat with the Jalepeno rub. Keep in mind that if your sausage meat is pre-seasoned then you want to use less seasoning, so it does not get too salty. Grab an egg out of the fridge and place it in the centre of the meat and form the meat around the egg.  Roll the meat around in your hands to get rid of any seams.  Season the outside again and set aside, repeat until all of the eggs are wrapped.
Smoke it!
Place the sausage wrapped eggs on the smoker at 250 degrees for about 45 minutes.  Keep in mind that the egg is already cooked and if you over cook these then the egg yolks will no longer be runny.  I check for doneness by grabbing a probe thermometer and sticking it into the sausage, being careful not to pierce the egg.  You are looking for a temperature of 165 degrees.
You hit 165, now what?
Take the eggs off the smoker and cut into one right away.  I like to use one to confirm doneness and have as a chef sample before bringing everyone to the table.  This way you can confirm you have runny yolk for your big reveal as well.
Serving
It is best to serve the eggs whole so that each person gets the experience of cutting into it and having the yolk run all over. It's more of a sensory experience that way.
Step by Step
Preheat Smoker to 250 Degrees

Soft boil the eggs for 6 minutes and then into an ice bath

Flatten a handful of sausage meat and season the top

Place an egg in the centre of the meat and wrap it around the egg

Place on the smoker until you reach 165 degrees internal

Remove from the smoker and slice one open to confirm doneness

Serve hot with rice or bread