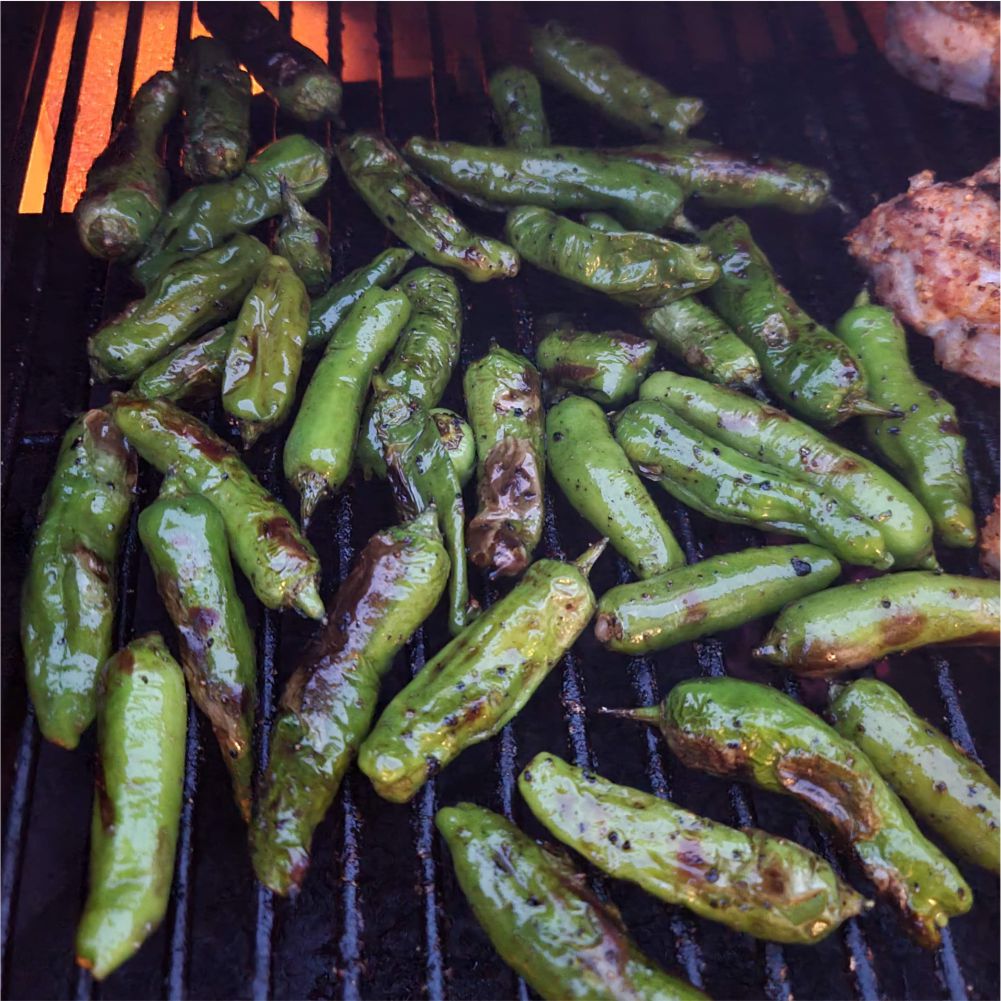 Smoked Shishito Peppers
I was down in Las Vegas on vacation, and it seemed like every fine dining restaurant had Shishito peppers on the menu. I had never had a shishito pepper before, but I thought I saw Bobby Flay cook them a couple of times on Beat Bobby Flay, so they must be good right? Well needless to say, I had to give them a try. So, while dining at Momofuku we ordered the Shishito peppers dressed with smoked Maldon salt and lime. They were a nice little spicy treat. Not knowing what to expect, they kind of look like a mix between a jalapeno pepper and a poblano pepper, so without knowing, most people would assume they are spicy, but they aren't! Well serendipity set in when I was walking the aisles of my local grocery store in Edmonton and I came across a bag of Shishito peppers, so I had to buy them and give them a try. I bought them intending to blister and smoke them with some flaky salt and the recipe you are about to read is the results of that. Get your taste buds ready because we are going on a peppery adventure!
Instructions
Seasoning the Shishito Peppers
Add the Shishito Peppers to a mixing bowl and pour over the grilling oil and season heavily with the Really Ranch seasoning and the Flakey Salt. If you don't have flakey salt, then use kosher salt, but only use half as much. Toss the peppers in the bowl to coat in the oil and seasoning.
Grilling the Shishito Peppers
Preheat your barbecue to 500 degrees

Toss the peppers on the grill and cook for about 4 minutes. Turn the peppers once so that you get blisters on both sides of the peppers, continue grilling for about 3 more minutes. It is important to take the peppers off the BBQ before they start to shrivel. You just want to see char marks on the outside and the peppers should start to soften a little. They are still edible and delicious if they are too shriveled, but they are better if they have just a little bit of crunch.
How to Serve Shishito Peppers
Shishito peppers are not a super popular item, so most people do not know how to eat them. So, the best way to serve your Shishito Peppers is to place a bowl with the peppers on the table and then an empty bowl next to it for the stems. You can eat the stems, but it's better if you bite the stem off and eat the rest because the stems are very fibrous compared to the rest of the pepper.
Don't be afraid to re-season
Once the Shishito Peppers are off the grill, make sure to taste one. This is to test the seasoning. If they need more salt at this point you can add more Flakey salt now or serve it tableside.
Step by Step
Preheat Grill to 500 Degrees

Season the Shishito Peppers with Grilling Oil, Really Ranch and Flakey Salt

Grill the peppers for 7 minutes, turning once

Taste a pepper to check the seasoning and re-salt if necessary

Serve hot with a side bowl for the stems
Notes
How Spicy are Shishito Peppers?
Shishito peppers are mild small peppers from Japan. Their flavor is a little smokey, slightly sweet and not very spicy… but beware; one in 10 shishito peppers is more spicey than the rest. Shishito peppers are slightly hotter than a bell pepper in general, but nothing near the heat of a chili or jalapeno. For example, a Shishito pepper is between 50 and 200 Scoville units, whereas a jalapeno is 2500-8000 Scoville units.
What if I can't find Shishito Peppers
This recipe can be made with just about any peppers. If you are really afraid of heat, then you can use sliced bell peppers as a comparable texture and flavor. If you want a little more spice, then you could consider using poblano peppers, jalapeno peppers, Pimento or Cherry Peppers, Italian Pepperoncini, Banana Peppers, or anything other pepper you find at the market.
Can you eat under cooked Shishito peppers?
You can eat Shishito Peppers raw, and they are sweet and delicious. Blistering the outside of the pepper helps to accentuate the sweet flavor of the pepper. Making sure not to over cook the Shishito peppers is important because if you over blister the outside then it can make the peppers taste slightly bitter.