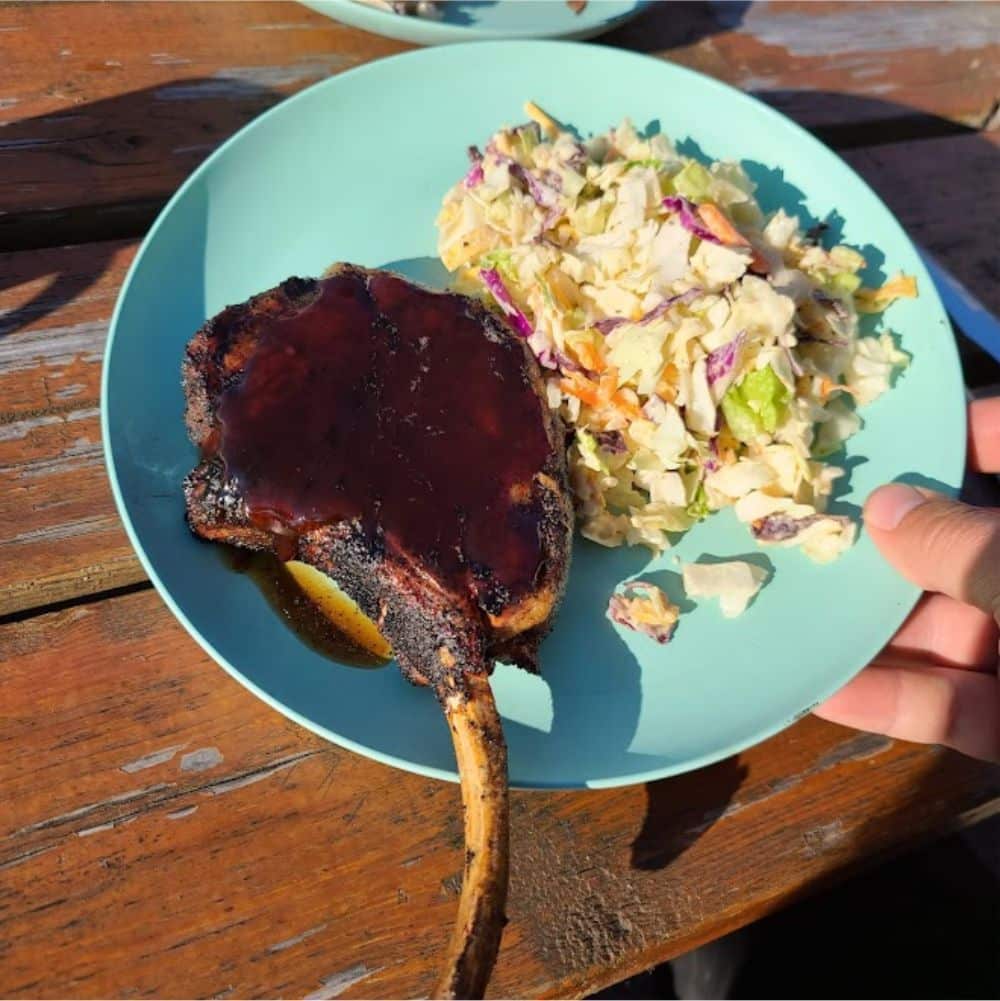 Smoked Tomahawk Pork Loin Chops
Meat on a stick is my favorite carnival food. Consequently, it's also my favorite way to eat meat in general, off the bone. I love steaks, chops, chicken on the bone. So, it's no surprise that when I saw some Tomahawk Pork Chops at the grocery store, I had to have them in my life. This style of preparation is usually done with bone in rib steaks, but in this instance, I was very excited to give it a go. It's basically a bone in loin chop with the side rib meat completely removed (probably for bacon). The bone is then cleaned and left in place, so that once the chop is done you have a nice little handle to eat it with.
Ingredients
4

each

Tomahawk Cut Pork Loin Chops
Instructions
Seasoning the Chops
Pre-heat your smoker to 400 degrees.

Lay the chops out on a cutting board and then sprinkle with a heavy coating on all sides of the Jolly Rodger Rub or any of your favorite pork seasonings. Make sure to flip them over and do the opposite side as well as around the edges on all sides as well.
Let the seasoning sit
Once the chops are fully seasoned, let the seasoning setup for about 20 minutes before they hit the grill. This will allow time for the seasoning to penetrate the meat a little bit and not just season the surface of the meat.
Smoking the Chops
Place the chops directly on the grill at 400 degrees F for about 20-25 minutes or until you reach an internal temperature of 145 Degrees F. Once the chops hit your desired internal temperature, add some BBQ sauce on both sides and let it sit on there for about 1 minute before removing from the grill.
Resting the Chops
Wrap your tomahawk chop in tinfoil and let it rest for at least 5-10 minutes to allow the internal juices to settle before serving.
Step by Step
Preheat your grill to 400F

Season your chops with Jolly Rodger Seasoning all over

Let the Tomahawk Chops rest at room temperature for about 20 minutes

Get the chops on the grill at 400F for about 20 minutes or you reach internal of 145 F

Sauce the chops with the Blues Hog Original sauce, let it cook for about a minute

Remove the chops from the smoker and rest for 10 minutes

Serve with your choice of BBQ sides
Notes
What part of the pig does a tomahawk chop come from?
The tomahawk Chop that we used in this recipe is a combination of a pork back rib and a pork loin chop. This comes from the back of the big next to the spine.
Where can you buy Tomahawk cut pork chops?
I found these tomahawk pork chops at a local grocery store in the butcher case; however I will say that is a rare find. To get these with much certainty you should talk to your local butcher and special order them. If you can't find tomahawk cut pork chops, any bone in loin chop can be cooked the exact same way, just without the handle.
What if I am Gluten Free?
This recipe is entirely gluten free, so you can safely consume with no substitutions.
What is the correct temperature to finish pork?
Pork Chops can safely be consumed in Canada at an internal temperature of 145 degree F. Lots of people like eating their pork a little lower at medium rare temperatures, but that is only to be done with caution as consuming undercooked meat can be harmful to your health.