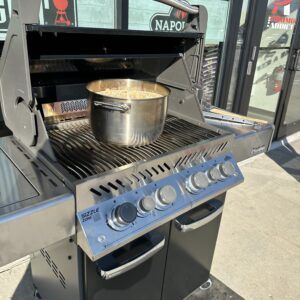 White Chicken Chili
I was invited to a Chili cook off at the Edmonton Elks Tailgating section this season.  I have a rule that I don't compete in unsanctioned cook offs, so instead of competing, I decided to sponsor the competition by donating the prizes for the winner.  And since I wasn't competing, I thought it might be fun to cook a recipe that was someone else's.  So, I emailed my friend Darci Bos… 2 time world Chili Champion Darci Bos.  I askedDarci if she would share her Chili recipe with me, so that I could cook it at the event.  She is such a gracious champion and one of the nicest people you have ever met, so she obliged!  Check her out here: https://www.instagram.com/darcibos/ and give her a follow.  Because she is from the southern states, andI am from Canada, there were some ingredients that I could not get or are a little different up here, so I had to modify the recipe to fit whats available here.  I also decided to simplify some of the steps to make it easier to make in a parking lot at a football game.  Regardless of the simplifications, the reviews were incredible.  So many people said things like "this is the best chili I've ever had" and "Holy crap, that's incredible".  It never gets old to have feedback like that on tailgating food. So give this a try at home and maybe consider cooking it at your next tailgate as well!
Equipment
100% Hardwood Pellets

BBQ Gloves

Pellet Grill or Charcoal Smolker

You Need a BBQ Cutting Board

Foil Tray

Yonedas Slicing Knife
Ingredients
4

tbsp

Butter

1/2

Sweet Onion

(Diced)

1/2

Red Bell Pepper

(Diced)

2

tbsp

Yonedas White Seasoning

2

cups

Chicken Broth

1

Russett Potato

(Diced)

1

tbsp

Yonedas Gold Seasoning

15

oz

Queso

1

can

Peaches and Cream Corn

1

can

Butter Beans

1

can

White Kidney Beans

8

Boneless Skinless Chicken Thighs

1/2

Bottle

Lanes BBQ Sorta White BBQ Sauce

8

Strips Bacon

Cooked and Diced

2

Green Onions
Instructions
Making the Base for the White Chili

Preheat theBBQ to 400 degrees and place a large chili pot onto the grill to warm up.  Add the butter to the pan and then add in the diced onions once the butter is melted. Stir frequently until the onions become translucent.  Season the onions with ½ of the Yonedas white seasoning and then add in the diced bell pepper and continue to stir until the bell pepper becomes soft.

Lets start building some flavour!

Pour in the chicken broth to the pot and stir vigorously to deglaze the bottom of the pot.  Next you want to add your diced potato to the mixture and boil it until the potato becomes soft enough to mash.  While you are waiting for the potato to cook season the chicken thighs with the rest of the Yonedas White seasoning and grill them until you reach an internal temperature of 165 degrees internal.  Once they reach 165, you can dice the chicken to get ready to add it to the pot.

Mashing the potato

Once the potato becomes soft enough to mash, get in there and give it a good smash, its ok to have some small bits of potato in the chili, but you want to use this to thicken the chili as much as possible. Now is when you want to add in the butter beans, kidney beans and Yonedas gold seasoning. Stir until well combined.

Lets cheese it up

Next you want to pour in the 15 oz container of queso and stir until it is all melted and combined with the chili. Lastly you want to add in the corn and diced chicken thighs.  Add a little more Yonedas gold seasoning until you hit the flavour profile you are looking for.

Service

To serve the chili, scoop it into a bowl and then top with a small pile of bacon, green onion and a small squeeze of the Lane BBQ sorta white BBQ sauce.

Step by Step

1.     Preheat BBQ to 400 Degrees

2.     Cook down the onions and red pepper in butter until soft

3.     Add in the chicken broth and potato,boil until potato is soft

4.     Season and cook the chicken thighswith Yonedas Gold seasoning up to 165 internal temp.

5.     Add in the corn, queso and beans

6.     Add in the diced chicken thighs

7.     For service, serve with White BBQ sauce, bacon and onion
Notes
Additional Thoughts:
What is the best cut of chicken for White chili?
For this recipe we used boneless, skinless chicken thighs because when youa re tailgating, you want to do as little prep as possible and we didn't want our chili to be too oily from the skin.  You could also use skinless legs or chicken breast if you want to make it a little healthier. Ground chicken or ground pork would also be easy substitutes, but we like the whole thighs diced because it gives a good texture to the chili in the end.
Is this recipe healthy?
White chili is typically a little more calorie rich than red chili because the base is chicken stock and queso instead of tomatoes, but if you used a low fat queso and chicken breast, there is no reason this meal needs to be "unhealthy" as it has lots of beans, vegetables and a stock base.
What if I am Gluten Free?
This recipe is entirely gluten free so you can serve it to your guests who have allergies with confidence.
What are other great ingredients for a white chili?
I love my white chili the way I made it, but you can absolutely try other types of white beans or legumes like black eyed peas, great northern beans, lentils and more.  Other great ingredients for a white chili would include leeks, garlic, squash, chick peas, sour cream, poblano peppers, jalapenos, avocado, tortilla strips and more.
Tools and Accessories required to complete this recipe.
To complete this recipe, there are a few things you will need including tools and accessories.  Some of these tools are optional, but they will make your life easier if you have all of them.
100% hardwood Wood Pellets
BBQ Gloves
Pellet Grill or charcoal smoker
You Need a BBQ Cutting Board
Foil Tray
Yonedas Slicing knife