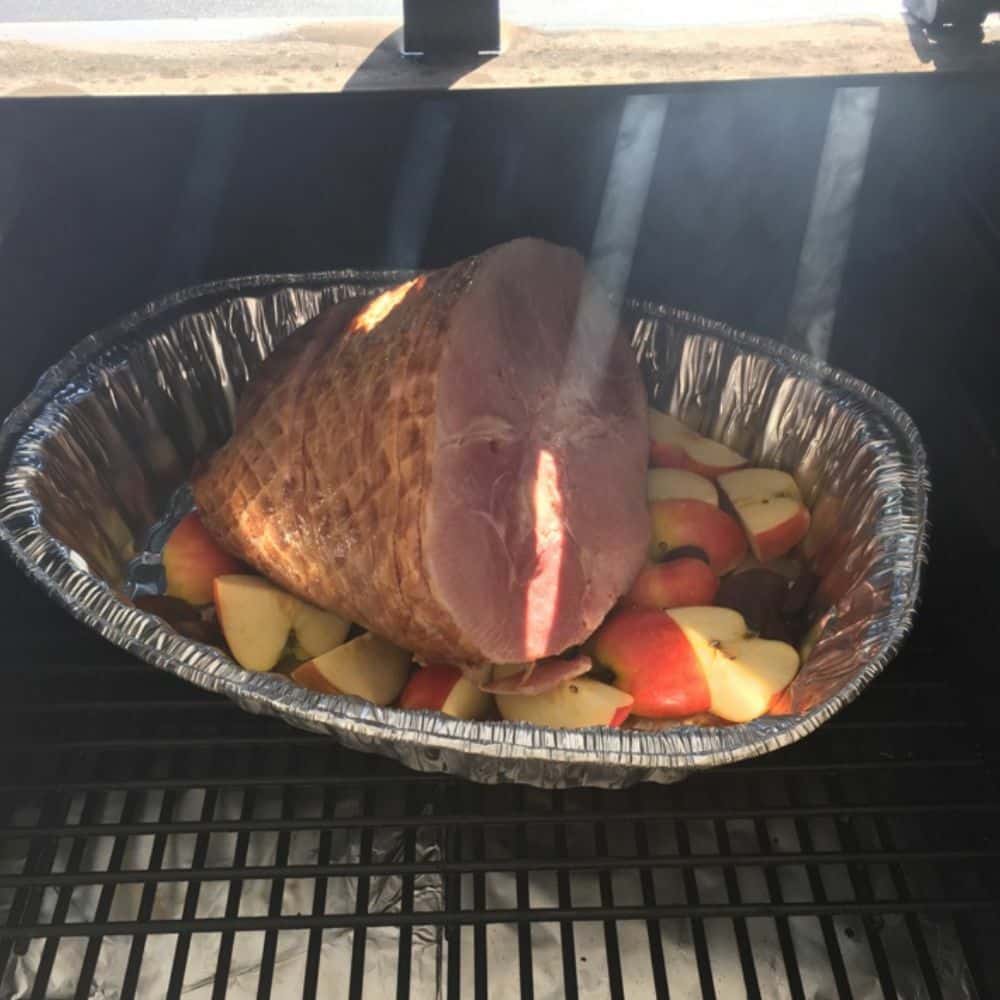 Glazed Spiral Cut Ham
Christmas, Easter, Thanksgiving I feel like Turkey rules the roost, and Prime Rib is a close runner up, but please don't sleep on ham. I love a good ham and the most beautiful part of ham is that it pops up at other times of the year as well. Leftovers make a great breakfast sandwich and who doesn't love some ham cut up into fried rice or soup. Ham was the only way I would eat mustard when I was a kid. My favorite part about ham is how easy it is to prepare. Most Hams in the grocery store are pre-cooked, so you basically just need to warm them up to serve. Many stores have even started stocking what they call a spiral cut ham, this ham used a rotary blade to cut around the bone. With this type of ham, you can risk drying it out quite quickly because the spirals cut the meat so thin, so a great trick to prevent drying is to glaze the ham with a sugary, sticky mixture that will lock in the moisture and create a nice crust on the outside.
Equipment
Large Baking Sheet or BBQ Tray
Instructions
Warming up the Ham
Preheat the Smoker to 300 degrees.

Place the ham in a shallow baking dish and then get it onto the smoker for 1 hour and during that time mix all of the ingredients for the glaze in a bowl.
Glazing the Ham
For the next 2 hours you want to glaze the ham every 30 minutes. Using a basting brush, paint the ham all over with the glaze. If you use a fork, you can even lift some of the spiral cuts to get the ham inside the crevasses. As the glaze begins to set it will start to caramelize on the outside of the ham, so keep your eyes out for spots that will start to get dark and then paint those spots more often as required.
Resting the Ham
You don't really need to rest a ham after cooking, because it is pre-smoked, but out of habit, I like to let it sit out for about 10 minutes before slicing. This give the glaze a chance to setup a little bit more and everyone at the party to marvel at how good it looks.
Step by Step
Preheat Smoker to 300 Degrees

Smoke the ham for 1 hour in a shallow pan

Mix the glaze in a mixing bowl

Brush the ham with glaze every 30 minutes for 2 additional hours.

Remove from smoker, rest for 10 minutes and serve
Notes
What other juices will work if I don't have pineapple juice?
I like pineapple because of its natural sweetness and acidity, but other similar juices that would work would be peach juice, apple juice, peach nectar, pear juice, grape juice, white grape juice, bourbon (yes bourbon), cream soda, root beer, cola or really just about any sweet liquid. Who doesn't love to experiment with new flavors!?
What to do if you can't find spiral cut ham
If you have searched your grocery store for spiral cut ham and can only get regular hams that's OK! This recipe works the exact same for hams that are uncut. My favorite hams are the old fashioned deli meat hams anyways, I mostly make this recipe to save Spiral cuts from drying out.
What if I am Gluten Free?
This recipe is entirely gluten free. So if your celiac friends are coming for dinner, this is a great recipe to give a try.