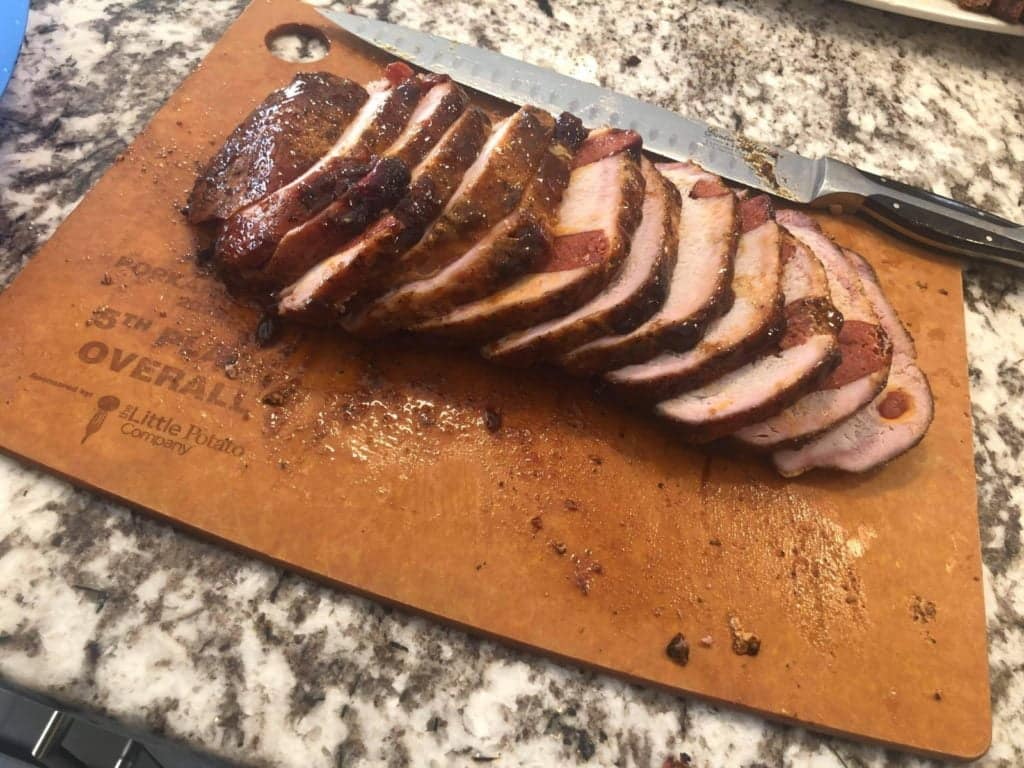 Pepperoni Stuffed Pork Loin
You have seen chefs butterfly pork loins, stuff them with some of the worlds finest ingredients and then roll it back up, tie it to perfection and cook it. But you don't have twine, you don't own a slicing knife or the ability to butterfly a loin and you want all the same (or even more flavour). The trick here to stuff your pork loin with pepperoni sticks is the ultimate pork loin cooking hack.
Ingredients
4

each

Fresh Pepperoni Sticks, whatever flavour you prefer.  I like Honey Garlic or Hot

½

each

Pork Loin

1

tbsp

Mustard
Instructions
Preparation
Set Smoker to 275 degrees Fahrenheit.

Remove the pork loin from any packaging and pat dry and leave it on a clean cutting board. Using a pairing knife, poke a hole into the pork loin, I like to make an X by poking a hole and then turning the knife 90 degrees and going back into the same hole.  The hole should be about the same size as the pepperoni sticks.  Push a pepperoni stick into the hole and when it reaches the other side of the pork loin you can cut it off. Repeat the process until you have inserted all of the pepperoni into the loin.  Try to space the pepperoni by about 1.5" across the whole loin.
Cooking
Put the loin on the smoker and using an internal thermometer, cook the loin until it reaches an internal temperature of at least 150 degrees.  The safe recommended temperature for pork is 165 degrees, but some schools say you can eat it medium rare, do so at your own risk. In the final 5 minutes, glaze the pork with the smoked hickory BBQ sauce just to set it prior to slicing. Let it rest off the BBQ for 5 minutes before slicing.
Slicing
I love slicing this style of roast because if you have a good sharp knife and you are careful as you slice it you will end up with embedded pepperoni within your slices.  If your pepperoni falls out as you slice it then next time just try making your holes a little smaller.