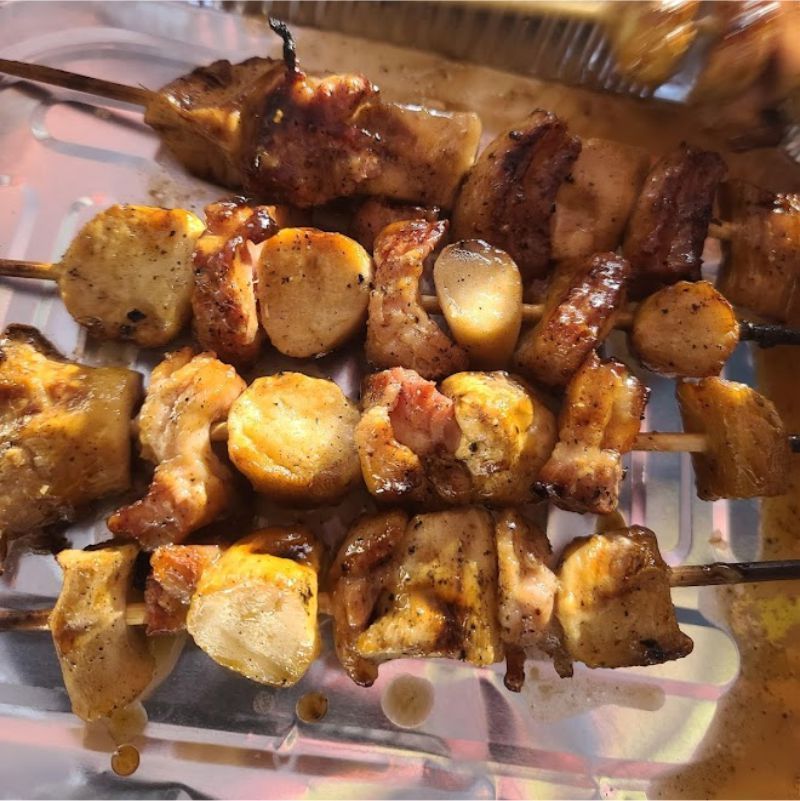 Samurai Bacon and King Oyster Mushroom Skewers
Let's get this started by telling you that I hate 99% of all shish kebabs. You know what I'm talking about. When people take raw meat and vegetables, thread them onto a skewer with no seasoning and then cook the skewer until the veggies are limp and the meat is like leather? Well, no more! I was tasked with coming up with a super innovative shish kebab recipe that would be "elevated" or world class. No overcooked meat and limp unseasoned vegetables at You Need a BBQ! I tasked myself with finding a vegetable that cooks the same way as meat and then pairing it with some meat and seasoning. My idea came to me with King Oyster Mushrooms and Bacon! Usually when I make King oysters in a frying pan I use sesame oil, so for this recipe I paired it with our sesame BBQ sauce called Samurai Sauce from our friends at BBQ Quebec. The recipe ended up being incredible, so here it is for you to give it a try!
Ingredients
1

each

Package King Oyster Mushrooms

1

lb

Thick Cut Bacon
Instructions
Preparation
Preheat the Smoker to 500 degrees.

Soak your bamboo skewers in water for about 20 minutes before putting your meat and veggies on the skewer. Next you want to prep your ingredients by slicing the King Oyster Mushrooms into thirds. Next slice your bacon into 1.5" slices.
Building your skewers
The secret to cooking your meat and veggies the same is to make sure they are the same. For this skewer my mushrooms were about the same thickness as 3 slices of bacon, so I would place 1 King Oyster Mushroom on the skewer and then 3 pieces of bacon (make sure they are pushed together). You are basically making a little Lardon out of bacon. Then place another King Oyster Mushroom then more bacon. In the end the skewers should have about equal parts bacon and Mushrooms throughout.
Seasoning the skewers
Sprinkle the skewers all over with a light coating of Boars Night Out White Lightning and then spray them with duck fat spray.
Grilling the Skewers
Place the skewers on the grill and flip them every 3 minutes for about 12 minutes until the bacon and mushrooms are cooked through. In the final 3 minutes, paint the skewers with the Samurai sauce and then give them 1 final flip and paint the other side.
Serve with a side of Samurai
Serve your skewers hot and fresh with a side of samurai sauce on the side.
Step By Step
Preheat Smoker to 500 Degrees

Soak your skewers in water for 20 minutes

Cut your mushrooms and bacon into 1.5" sections

Place a mushroom on each skewer followed by the same thickness of bacon (about 3 pieces)

Season the skewers with white lightning and duck fat spray

Grill the skewers for 12 minutes, flipping every 4 minutes

In the final 3 minutes, paint both sides of the skewers with Samurai sauce

Serve hot with a side of samurai sauce
Notes
What other mushrooms would work with this recipe?
Mushrooms are amazing because they have so many species, densities, colors, types and more. King Oyster Mushrooms were selected for this recipe because they have a density very similar to bacon and a similar cooking time. Another name for King Oyster Mushrooms can be King Trumpet Mushroom. For this recipe you could use mushrooms that are quite "meaty" in texture like Portobello, Portabella, Shiitake, Cremini are all quite Meaty when it comes to selecting the right mushroom, it's really more about what's available than what's right.
Best Items to feed vegan friends
I am always on the hunt for vegetarian dishes or vegan dishes that I can feed my vegetarian customers. This can be a BBQ dish that will blow their minds. Obviously, you have to skip the bacon and the duck fat, but King Oyster Mushrooms are a fantastic dish to serve for anyone at a party that doesn't eat meat. The best part is you can still include the bacon on your skewers and just simply make a few with just mushrooms.
What if I am Gluten Free?
The samurai sauce in this recipe does contain gluten, so I'd recommend switching out to Lanes BBQ Sorta white sauce or Motley Que Ivory Heaven as another great choice. White BBQ sauces are awesome on bacon and mushrooms, so you can't go wrong with this one small substitute.
Can you eat King Oyster Mushrooms?
Yes, King Oyster Mushrooms are both edible and delicious. The best part is that King Oysters are the largest of all the Oyster Mushrooms are they are completely edible, the head, the skin, the stem are all edible and have a very similar consistency, because remember, this recipe is all about matching cooking time and texture, so the King Oyster is your best bet!