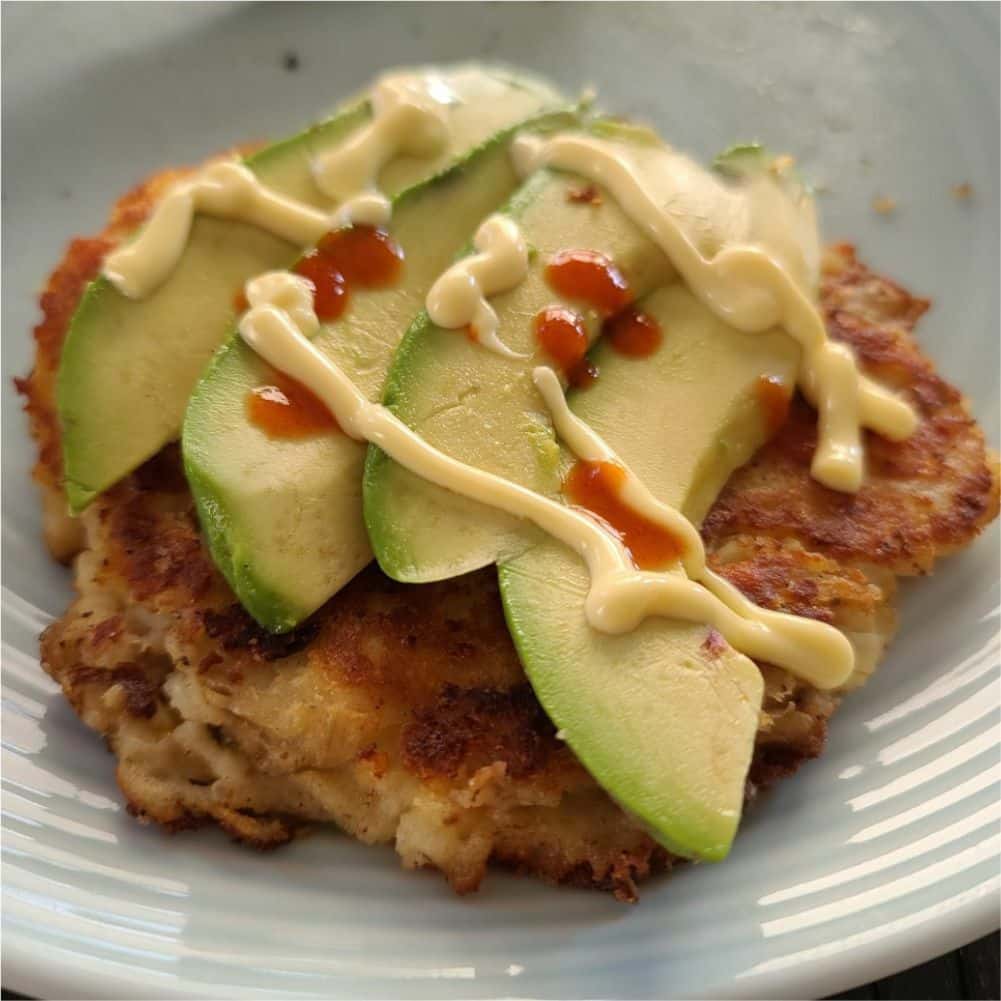 Smoked Bacon and Little Potato Pancakes
Smoked Bacon and Little Potato Pancakes, now there is a meal I could get behind. This meal is a great way to use up leftover mashed potatoes but can also be made from scratch if that is what your heart desires. When I made this recipe, I topped it with sliced avocados, mayo and Truff hot sauce. In the past I have also done it with sour cream and salsa or a fun mayo, sour cream and BBQ seasoning dip, the sky is the limit!
Ingredients
1

lb

Bacon

6

cups

Mashed Little Potatoes

2

cups

Shredded Cheese

2

each

Avocadoes

2

tbsp

Truff Black Hot Sauce

2

tbsp

Mayonnaise

3

each

eggs
Instructions
Preparation
Preheat the Smoker to 500 degrees.

Place a cast iron skillet to allow it to get hot. This recipe can also be made on the stove top as well, but I like the BBQ because it gets us outside.
Get the Bacon onto the Skillet
Place the bacon on the skillet so that it can get pre-cooked before forming the mashed potato pancakes. Cook the bacon until it is slightly crispy and then remove from the smoker and dice it up. Keep the bacon fat on the skillet because we will be frying the potato pancakes in the fat. If there is too much bacon fat in the skillet, you can remove it and add it back in on demand before frying the pancakes as well.
Mixing up your Little Potato Pancake Mixture
Combine the mashed potatoes, eggs, flour, cheese, Fryclone and diced bacon in a bowl and stir. You are looking for a mixture that can be formed into balls without falling apart but are not too stiff.
Frying the Little Potato Pancakes
Form the pancakes into 2" balls and place on the skillet on a little bit of the bacon fat. When you get the balls onto the skillet, now you are going to want to smash them down to be about ½ inch thick and more of the shape of a pancake. Let them fry until the bottoms are golden brown and then carefully flip them over and fry for another 2-3 minutes until both sides are evenly brown and crispy.
Serving the Little Potato Pancakes
To serve the potato pancakes, I like to slice the avocado and place it on top of each pancake, drizzle with Truff hot sauce and mayonnaise and Voila! One hell of a tasty BBQ treat.
Step by Step
Preheat the smoker to 500 degrees F with a skillet inside

Cook the bacon on the skillet until it is slightly crispy, reserve bacon fat

Dice the bacon and combine with little potatoes, flour, egg, Fryclone, cheese

Form the potatoes into 2" round balls

Place some bacon fat in the skillet along with the potato balls

Smash each potato ball down to be ½ inch thick and fry until golden brown

Flip the little potato pancake over and fry other side until golden brown

Remove from skillet and top with Truff, Mayo and avocado
Notes
Can this recipe be made with leftover potatoes?
Yes, this recipe is easier to make with leftovers because then you do not need to make the potatoes at the same time. When working with leftover mashed potatoes, make sure to warm the potatoes up a bit before mixing all the ingredients together, because that will make the potatoes less crumbly and easier to work with.
Do I have to add bacon?
This recipe is super forgiving, so if you want to add nothing that is ok, but you can also add Chicken, Beef, Pork, Turkey, Sausage, Ham, or any other meats you have kicking around the refrigerator.
What if I am Gluten Free?
This recipe can be made with gluten free flour and all the other ingredients are naturally gluten free. If you do not have gluten free flour at home, then this can also be made with cornstarch or tapioca starch or any other thickening agent. You can also make this recipe with regular all-purpose flour if you are not gluten free.
Is there a way to make this dish healthier?
Obviously frying your food in bacon fat after loading it up with cheese and bacon might make you get a few extra miles in on the Peloton. To make this dish healthier you can add less cheese and a little extra egg. You can also choose to fry the pancakes in a lighter oil like Canola oil or olive oil instead of the bacon fat. A great way to make this dish healthier would be to serve it with a side salad instead of just topping it with avocado and treat this dish as one of the many elements of a meal instead of the whole meal like I did.