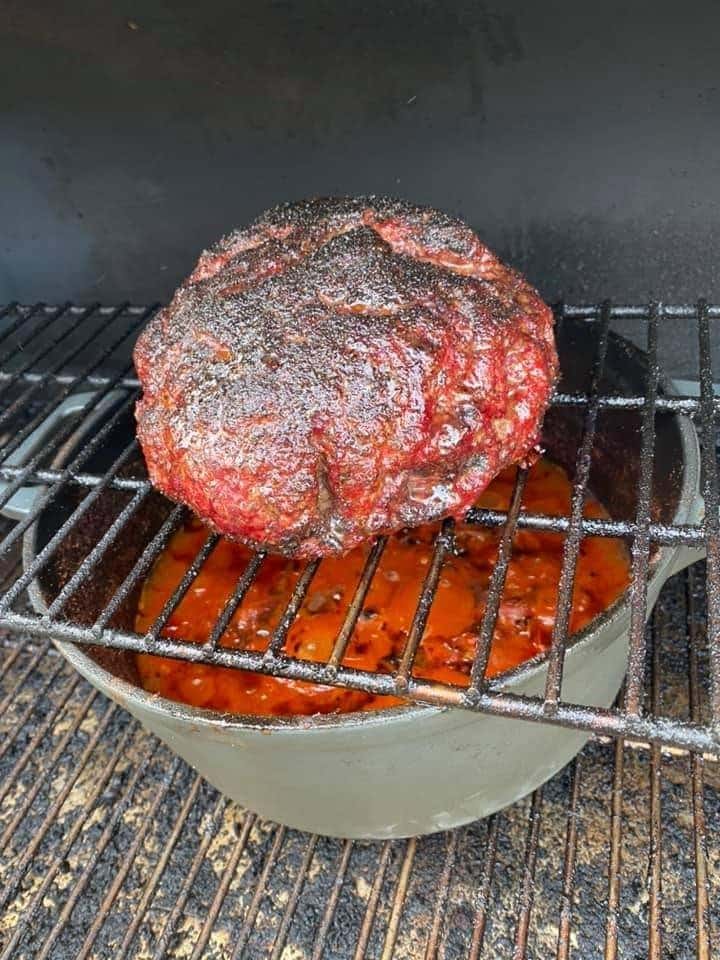 Underneath Chili
This Chili is sometimes called "Over the top chili" but I like calling it underneath Chili because the focus here is this Chili, not the giant meat ball that is over the top. They will work together to become an amazing pot of some of the best, smokiest, crispy meaty chilis you've ever had.  So whether you call it underneath or over the top, get your taste buds ready for a savoury explosion of flavour. Special thanks to my friend Perry for introducing me to this recipe and providing the photograph!
Ingredients
1

lb

Ground Beef

1

lb

Ground Pork

1

lb

Bacon

1

each

Large Onion, sliced

3

each

Garlic Cloves, diced

1

can

Diced Tomatoes

1

can

Dark Red Kidney Beans

2

cans

Brown Beans

2

each

Chipotle Peppers, diced

2

tbsp

Canola Oil

1

can

Corn Niblets
Instructions
Prepping the Meat
Preheat the smoker or BBQ to 300 degrees

Dice up and cook the bacon until it is a little bit crispy and then mix it with the beef and pork.  Season it with the Tumbleweed rub and mix completely.  Then form the meat into a giant meat ball, season the outside of the ball with the rub and set aside to go on the smoker.
Prepping the Chili
In a large oven safe pot begin by cooking down the onions and garlic in the oil, once the onions begin getting soft then you can add the corn, chipotle peppers, brown beans, kidney beans, tomatoes, bbq sauce. Once everything is incorporated you can transfer this to the smoker.
Cooking
Place the meat ball on the smoker and then place the chili directly underneath (hence the name of the chili!). The juices from the meat will drip into the chili adding more flavour to your mixture. Also because the meat is not in the chili it will achieve a nice crispy bark on the outside which once incorporated into the chili will be delicious. Continue cooking until the meat achieves an internal temperature of 150 degrees.
Serving
Once the meat is done cooking you want to break it up thoroughly and then stir into the chili mixture that was underneath, then the chili can be served hot.